King of Digital Marketing Awarded by 10SEOs.com as Top Ranking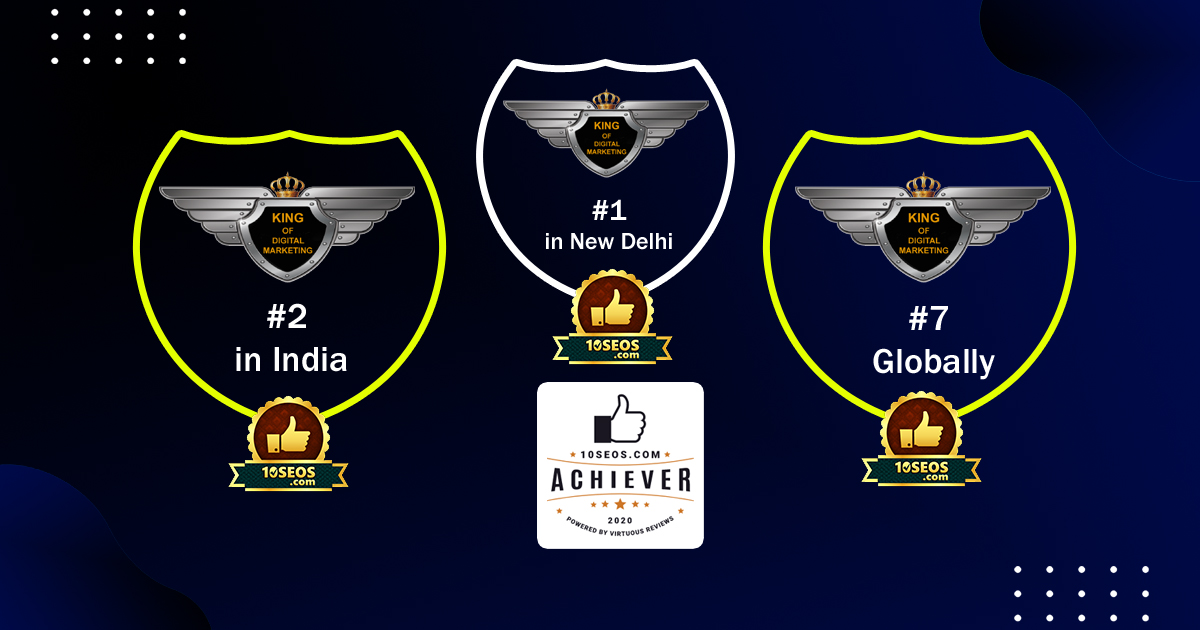 Awarded By 10SEOs - #7 Globally, #2 in India, #1 in New Delhi
It is great pleasure to share with you all that our digital marketing agency "King of Digital Marketing" has been listed in top SEO company globally, In India and Delhi. We have been given 7th position in globe, 2nd position in India and 1st position in Delhi by one of the most reputed reviewing agency of USA - 10SEOs. According to the survey done during 2020 October, The best reviewing agency for SEO services has released its results. Targeted accomplishments are a full-fledged result of teamwork. Every single employee has given 100% to its job. Their dedication brought them among the best toppers.
King of Digital Marketing Ranked 7 Globally
10SEOs - A Prime global SEO research and evaluating agency for digital marketing and specific SEO, after its meticulous analysis, presented the list of top SEO companies. King of Digital Marketing stands 7th globally. According to the superior reviewing agency. Among all the best applicants. Establishing the 7th position globally as top SEO company is a fabulous achievement for the team of King of Digital Marketing.
Our planning to achieve business goals proved beneficial. Successfully spreading our network all over the world like the USA, UK, UAE, Australia, Nepal, Canada including India. "King of Digital Marketing" offers impressive services like
SEO services
Social media marketing
Pay Per Click
Content Writing Services
Mobile App Promotion
Website Design Services
Our successful strategies gathered the best customers to provide the lead in the competition.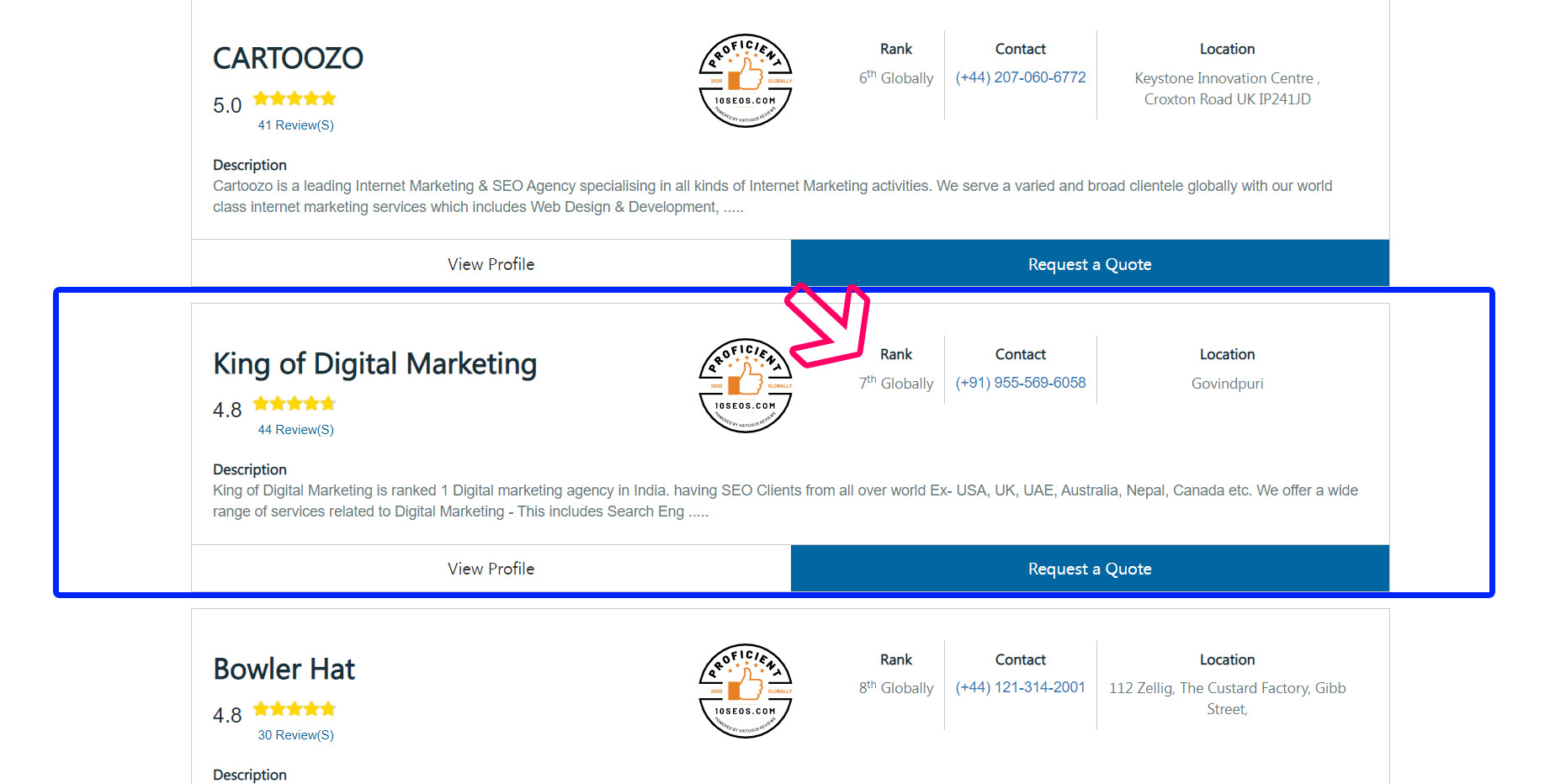 King of Digital Marketing Ranked 2 in India
We are at the number 2 position in India as per the 10seos reviewing agency. Since establishment in 2013, we are providing our best digital marketing services to our, all valued customers and clients through.
Search engine optimization
Online reputation management
Website designing and development
Pay click advertisement
content marketing
content marketing social media marketing
social media marketing
video marketing
mobile app marketing
App Store optimization.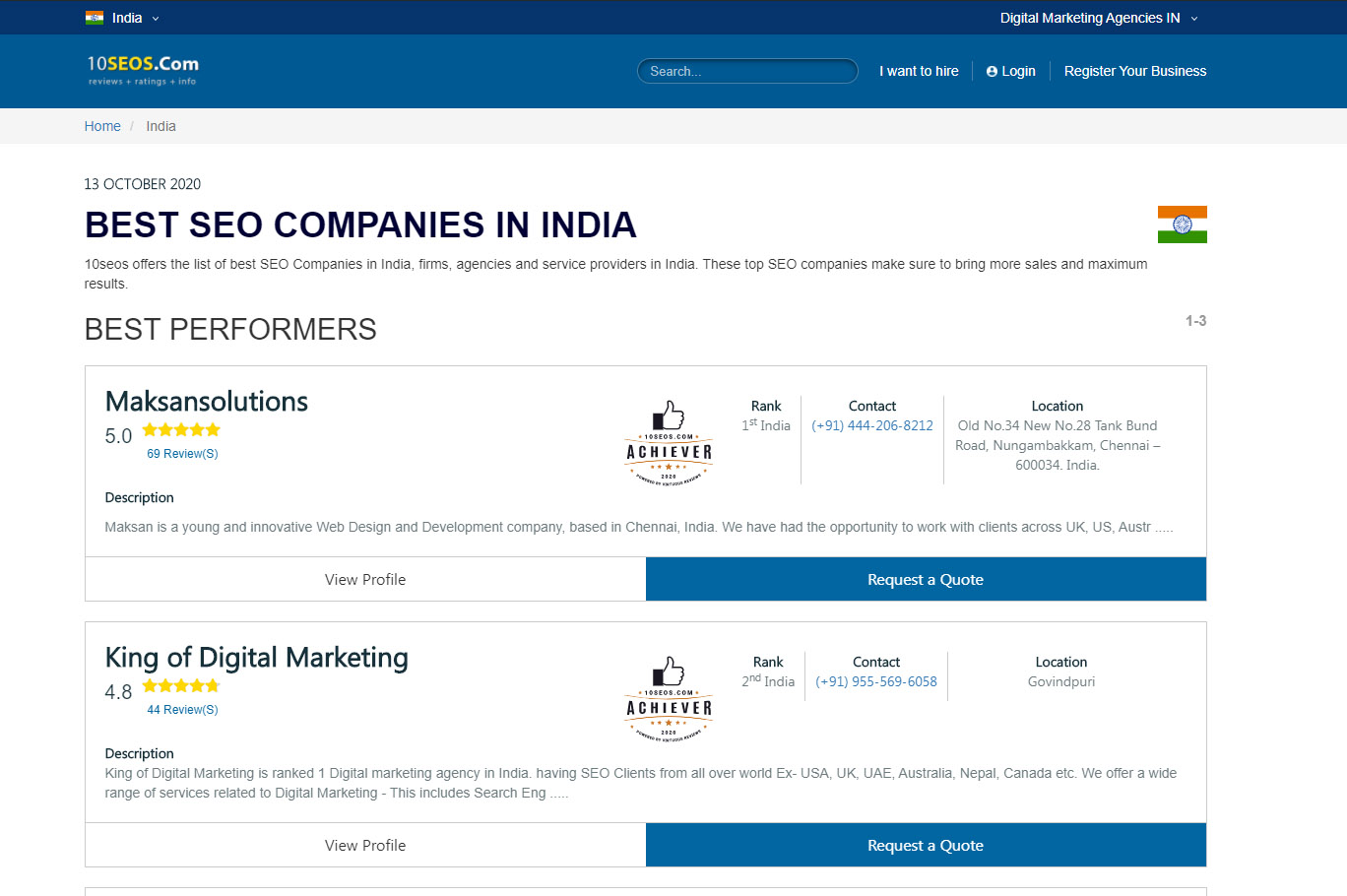 King of Digital Marketing Raned 1 in Delhi
10SEOs has given us 1st ranking in Delhi NCR as best SEO Company in 2020 October. We are leading globally but we are the best in our state Delhi. Due to the growth-oriented SEO planning, we have been rated as the best digital marketing company 2020 in India. Client case studies have revealed the best services they have received from the" King of Digital Marketing" to get the growth of their business. We grind our expert team and technology tools to scoop out the best results. We would definitely win rivalry battles with competitive companies to be at number one position. Google loved the "King of Digital marketing" because of the emperor care for its Kingdom.