Mobile App Promotion Services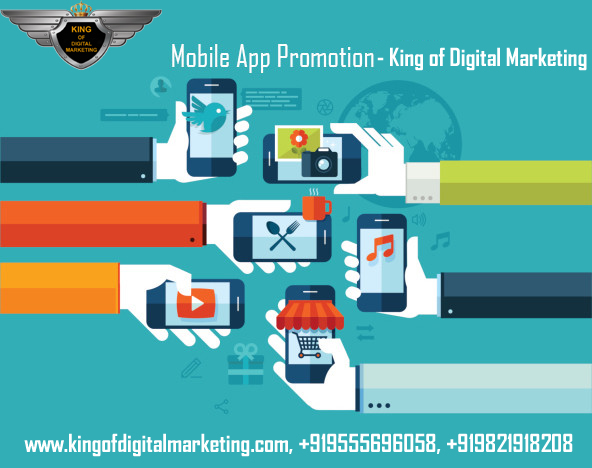 Mobile App Promotion, Android App Promotion
The prevalence of Android applications marketing in Delhi has developed rapidly. While this may seem like an incredible open door for launching your application, it additionally proposes that it would be extremely troublesome for your application to be found and downloaded when there are as of now a great many similar applications in Android App stores. An extremely viable system is required by App distributors that can permit them to accomplish the fancied outcomes that they need for their applications.
How do we promote Apps?
Our methodologies for Android applications online promotion in Delhi not just help you in making a rack space for your apps at the AppStore additionally to slice through the opposition and emerge for uniqueness and convenience. We, at King of Digital Marketing, make the ideal utilization of all the accessible assets for the marketing and promotion of your application so that the chances of its prosperity are expanded complex. A portion of the methodologies utilized for the promotion of Android applications are:
Branding
ASO: App Store Optimization
SEO: Search Engine Optimization
Social Media Marketing
Email marketing
Customized campaigns
Boosting promotional campaigns
Promotional contests to attract the attention of the target marketing
Management of Public Relations and blogging
Analytics and insights for several campaigns
Marketing collateral
Media buying and management
How do we work on CPI?
Currently we are working as per CPI (Cost Per Install) techniques. We charge you for each installation of your mobile application. Minimum packages starts from 500 installs.
King of Digital Marketing has practical experience in working in a joint effort with a few offices, engineers and sponsors to arrange and execute powerful promotion systems for boosting the perceivability of your iOS applications. Our limited time projects are intended to meet your destinations and boost the scope of your craved application.
Apart from the above mentioned strategies, we also ensure that our client is always updated with the promotional processes and strategies, so that they can be in tune with the developments going on. This also allows them to suggest any changes to the campaigns if they desire.
Contact: +919821918208, +919555696058