10 Important Things to Know Before Hiring Digital Marketing Company
Category:Digital Marketing Agency, Posted on 19 March 2020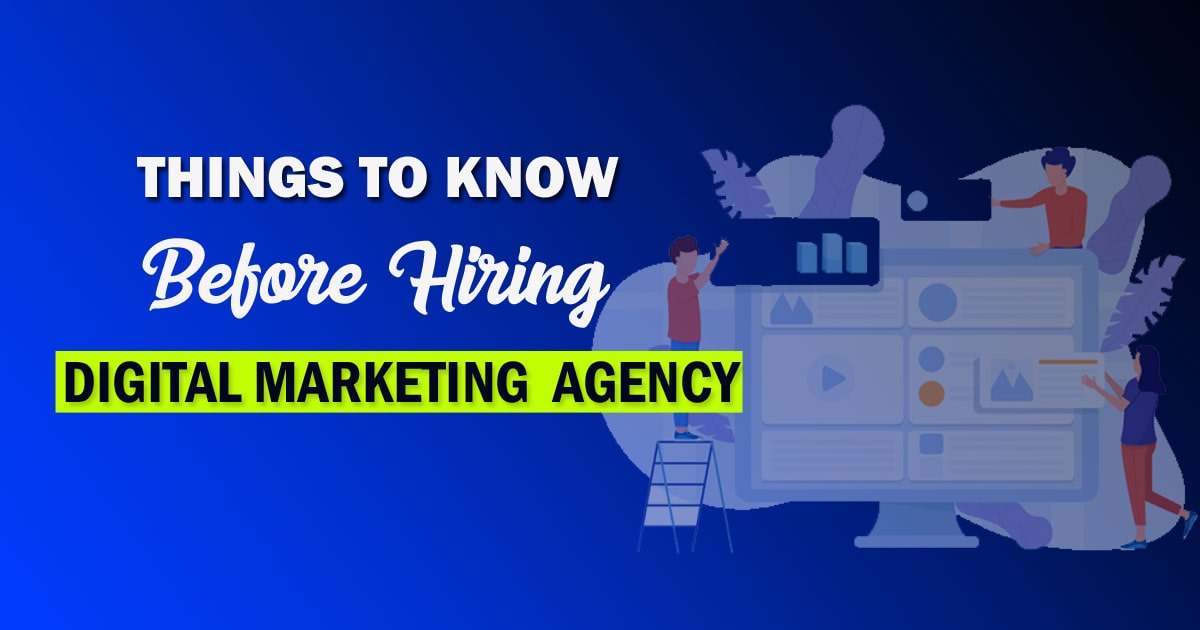 Are You Planning to Hire a Digital Marketing Company?
Are you searching for a digital marketing company to outsource your work, but are quite confused regarding how to choose a digital marketing agency for your business. One should take utmost care while hiring any agency as it will directly going to affect your business. Every agency can't provide the same results or services. Yet if you choose the right one for you then it could highly beneficial for your business in the long run. Here are some points one should keep in mind while choosing a perfect digital marketing agency for their business.
1. Determine Your Need
It is very essential to realise what you need before you start searching for a digital marketing company. You must evaluate your needs because once you have a clear idea, it will be easier to find out an agency that fits your business.
2. Hire An Experienced Agency
It is a very important thing while hiring a digital marketing agency. Because experienced digital marketing company knows the right strategies that will help you to reach your target audiences. An experienced digital marketing agency can not only help you to build excellent marketing campaigns but also drive you away from ideas that don't work.
3. What Tools does The Company Uses?
The agency you go with should be using the right tools to grow your business. There are many digital marketing tools like SEMrush, Ahref, MailChimp and many more. You should know which tool is best to grow your online business.
4. Check Portfolio
There are a lot of digital marketing companies which promise to provide incredible results. Don't trust their words, ask them to show previous works or portfolios. The previous results are proof of good work or fake promises only.
5. Do They Understand Your Audiences?
The internet is a very vast platform where you can achieve success in your online business. But if you don't go with the right strategies you won't be able to target your audience. that's why you should go for a consultation before hiring a digital marketing agency.
6. Must Know To Build Online Community
Social media is a place where most of the people are connected with Facebook, Twitter, Reddit, Instagram etc. Therefore, the digital marketing company must be able to establish a business relationship with online users. No doubt, social media create a base of loyal customers for your business.
7. Digital Marketing Agency Size
Though the size of the agency matters a lot. While some agencies have very less staff on the other side, some might have around 400 to 500 staff. If you hire a small agency then you can directly contact the people who are managing your project. But they will only provide Limited services like SEO, content creation, or SMO. On the other hand, big agencies can offer a lot of services from video creation to content creation and many more.
8. Digital Marketing Packages
When you are searching for a digital marketing agency, low prices always doesn't mean a better deal. If you are getting extremely low prices then first check the quality of services they are offering. Buying SEO Packages, Social Media Marketing Packages and PPC Packages separately is more expensive than a combo digital marketing package.
9. Check Contract Carefully Then Sign It
Before signing a contract, one should ask a lot of questions to the digital marketing agency. To check whether they are the right option for you or not.
10. Make Sure The Offered Services As Per Your Need
It's important to check that the agency is providing all those services which you are looking for. Read the terms and conditions of the contract in details.
King of Digital Marketing is one of the leading digital marketing companies based in Delhi. They offer the best services and overall deep analysis for their client's project.