10 Tips to Grow Your Business with Digital Marketing
Category:Digital Marketing Service
Posted by King of Digital Marketing on January 31,2020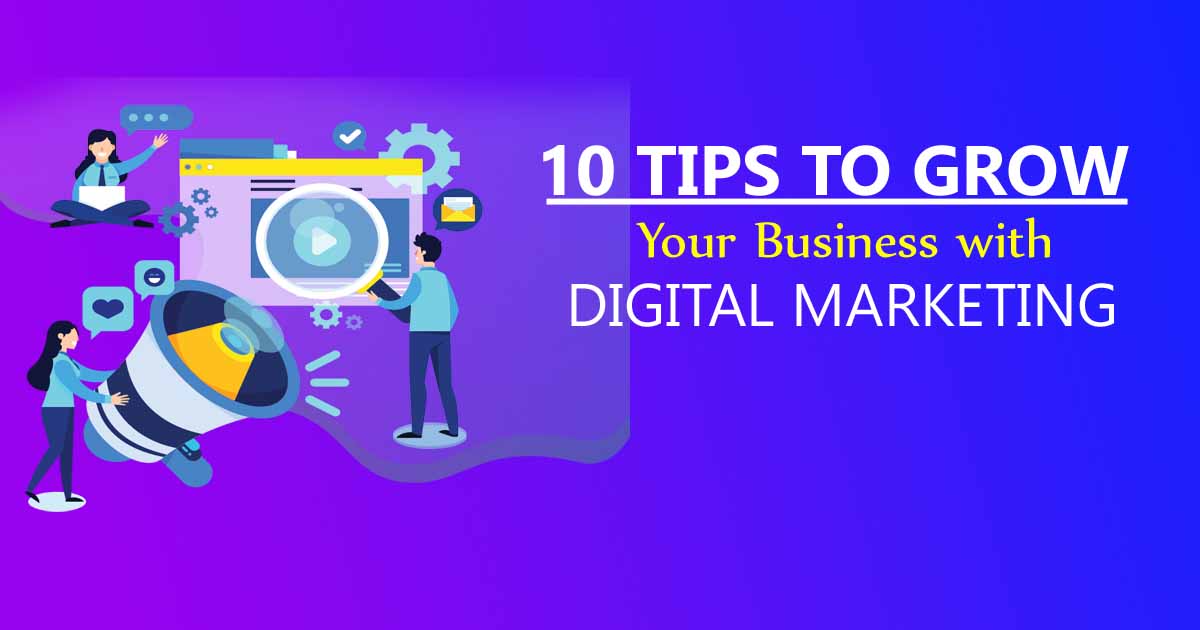 Today's digital marketing has been a major need for any business in marketing planning. If digital marketing is not a major part of your marketing plan then you are missing the best opportunity to promote your business on such platform where your genuine customers are searching for their needs.
No matter, your business is B2B or B2C, If you have implemented digital marketing successfully then nothing else can stop your business to grow. Your presence will on search engine, social media platforms and other websites where huge traffic gathers. These all platforms will help your visitors to convert into customers. Search engine help your website to get traffic from search engines like Google, Yahoo, Bing, MSN etc. Social Media Platform sends social traffic on your website. Digital Ads on popular websites are also helpful for traffic and conversion. digital marketing is one of the best tools used for your business growth and success. It is very cost-effective than traditional marketing. Digital marketing is very important because nowadays more consumers are available online. It is very easy and immediate way to reach your audience quickly. You can also easily target your targeted audience without spending a high amount.
These are 10 tips to grow your business with digital marketing:
1. Search Engine Optimization(SEO):
SEO is the best way to increase organic traffic on your website or online store. For SEO you can consult with a professional SEO company, offering SEO services to help you to grow in the digital world. SEO company trolley analyse your business and its online visibility. SEO and SEM together is the best trick for search engine success. Both are very useful for you to increase your online presence at lowest SEO Package.
2. Online Reputation Management(ORM):
Online reputation management is digital marketing work where marketer takes care online reputation for any brand or business. If someone is disappointed with your services and reviewed with some hate words or rated 1 then ORM executive talk them to solve problem or make balance with multiple positive review. Asking your customers to promote your business online is not enough. Your customers can review on Google my business Facebook and other online platforms but you should respond to their reviews in a positive way. Your customers review for your business on Google can help you gain more new customers.
3. Pay Per Click(PPC):
Pay per click campaign is a great way to bring quick results and more attention to your business. PPC is cost-effective and you need not a huge amount for it. It can help you to rank your business on the first page of search engines. PPC Company takes all responsibility to run your ad, set bid, extension, keyword research etc. You must choose one of PPC Package to run Google Ads or any paid advertisements.
4. Social Media Optimization:
Social media optimisation helps you to increase your business and products. it is one of the most inexpensive and most effective way of building brand loyalty and leads. You can take smo services help. Social media platforms such as Facebook, Instagram, YouTube and Twitter are the most effective way to Boost your Business. Social media marketing services eanbles your paid ads in all social platform at best social media packages.
5. Track Your Online Performance:
Online analytics can help you focus on your budget and digital marketing resources. It helps you to allow you to invest wisely. Prove this online program you will understand which source is better to generate traffic to your website. In this way, you can also improve your website or just a page which needs improvement.
6. Update Website Content Regulary
You should consistently update your website content so that search engine knows that you are an expert and regularly working on your website.
7. Google Business Listing
Google my business listing can help you build the best online presence by allowing customers to easily find you call you and can also review your company. Your Google my business account must be linked by your website all your store so that your potential customers can easily access all of your important business information.
8. Call to Action
You must try to grab the attention of your customers by providing a call to action or newsletter. If you have a strong call to action it helps your website to generate better leads and customers.
9. Backlink Strategy
Backlinks make a big difference for your website. When you get a backlink from a higher domain authority website it sends a signal to Google that your website is credible and it can help you to improve your ranking.
10. Email Marketing
Email marketing is still important to grow your business. It is a cost-effective way to send email to your customers directly. You must have any software for Email Marketing and Data, to whom you want to send Emails.