Digital Marketing Certification Course in India, SEO/SEM/SMO
Digital Marketing Certification Course: SEO/SMO/SEM Course in Delhi
Posted by Gaurav Dubey on July 07,2016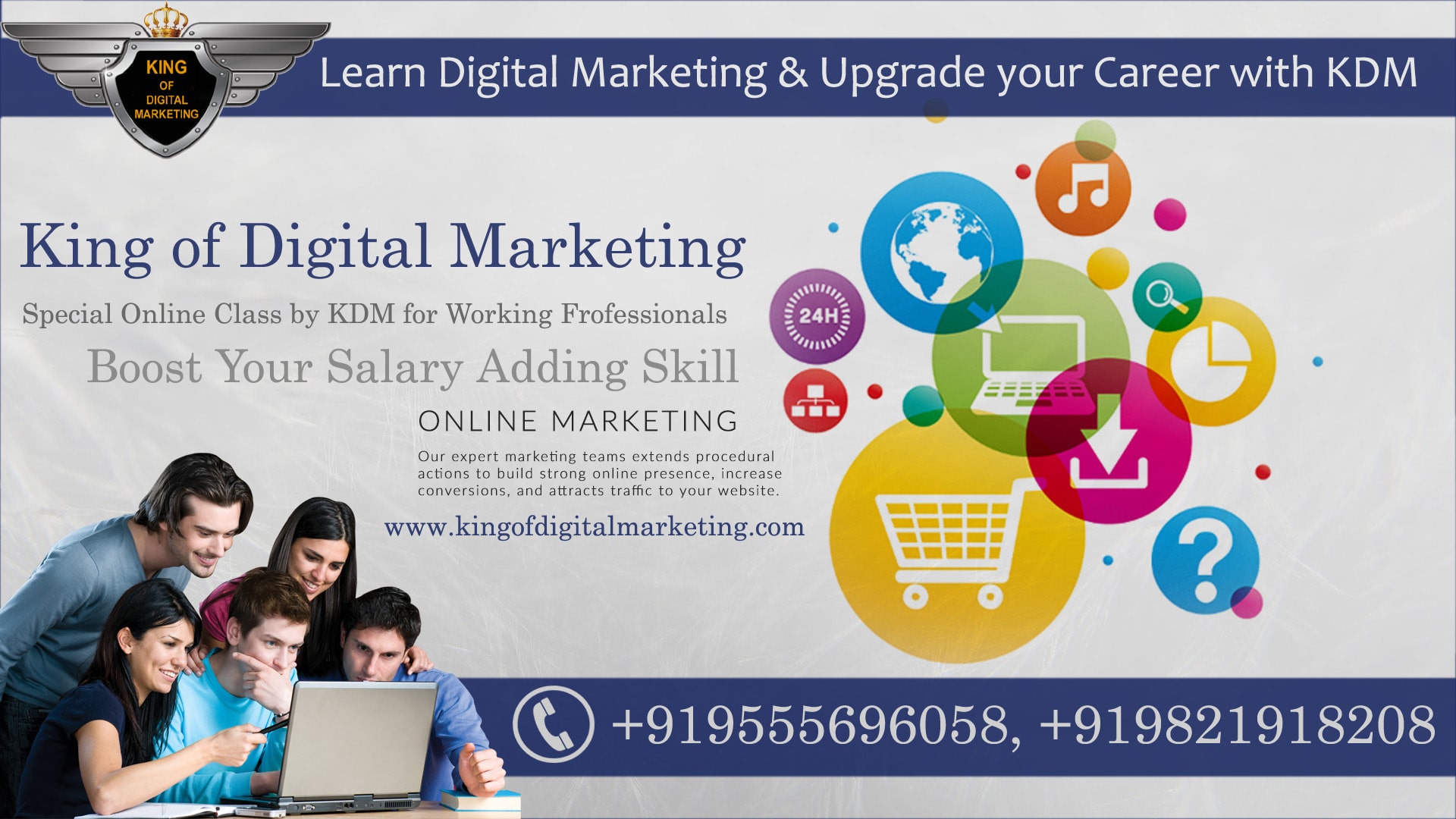 Digital Marketing Training, Digital Marketing Certification Course | on July 07,2016
Digital Marketing training Course in Delhi, India, Learn SEO SMO PPC in India by KDM
Digital Marketing Training Course in Delhi, India. Get SEO SMO SEM Online and classroom training by industry experts through King of Digital Marketing located in Delhi. We are top ranked Digital Marketing Agency for Training and Services all over India and abroad.
Why Choose Us for Digital Marketing Training:
We mean to make master of Digital promoting experts, in little groups of 3 to 5 students by specialists' mentors having taken a shot at experience. We consistently change our course content according to market need and changing algorithm of search engine. Our course educational modules covers functional preparing with preparation of for Google AdWords Fundamental, Search Advertising, Display Advertising, Video Advertising, Mobile Advertising, Shopping Advertising, Google Analytics Certification and Bing Accreditation. Contact: +919555696058,+919821918208 or visit: Here
SEO Training in Delhi:
Here students learn to discover how to use search engine optimization for increasing the visibility of your website in major search engines like google, Bing, yahoo. We cover advance seo concept to rank your website.
SEM Training in Delhi:
Learn practical + certification content of SEM & PPC including how to create a Search, Display, Shopping/Ecommerce, Video and Mobile Campaign from basic to advance level.
Google Analytics Course:
Google Analytics will help you with great reporting tools for search/display advertising, ecommerce website and for mobile apps. Learn basic and custom reports creation from experts.
Our Course Content:
SEO - Learn how search engine works, Keyword Research, on page optimization, title, description, meta tags, heading tags, anchor text, html & xml sitemap, alt tag, robots.txt, .htaccess.
Local SEO - Learn how to optimizing for local listing, local audience and geo targeting.
SMO - Learn uses of off page optimization for reputation building with link building techniques using directory submission, classified & social bookmarking, blog, forum, article writing, press releases, blog commenting
SMM - Learn the benefits of social media marketing for bard awareness using Facebook, twitter, LinkedIn and other smm websites.
Email Marketing - We teach how to do good email marketing campaigns, email copywriting, email deliverability and more.
Search Advertising - Learn how to get results using goggle AdWords search, Bing search marketing and increase your ROI.
Display Marketing - How to make brand awareness using Google, Facebook, LinkedIn display marketing
Video Advertising - How to share and promote your video using YouTube and other related websites
Mobile Advertising - Learn how to promote your apps and engage customer with your apps to increase your ROI.
Shopping/Ecommerce Advertising - Promoting ecommerce website is entirely different from search and display advertising.
Content/Behavioral Advertising - How to use content and behavioral marketing to attract and retain a defined audience.
Google Analytics - Learn how to create Analytics account, collect data, KPIs, analytics dashboards, predictive analytics and navigate various reports to attract new users and increase revenue.
Contact Details: King of Digital Marketing
New Delhi , PH: +919555696058, +919821918208
www.kingofdigitalmarketing.com