Digital Marketing to Grow Businesses After Corona Pandemic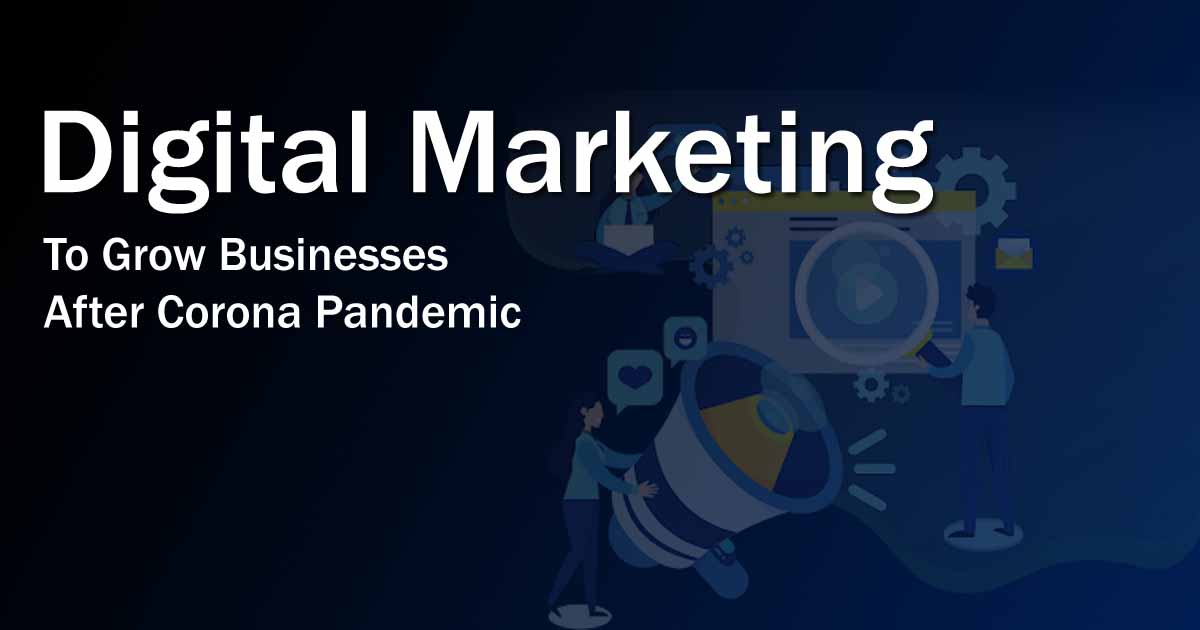 Digital Marketing to Grow Businesses After Corona Pandemic
Though the rapid outbreak of COVID-19 pandemic, this very deadly infectious disease has stopped the entire world, even it has prove majority of the traditional marketing methods useless, and forcing all industries and businesses across the world to leverage digital marketing channels in their fight for survival in the market. Though there is no doubt that some businesses are already highly skilled in digital marketing as because they have been using it for years, while on the other side other businesses barely know anything about digital marketing. Regardless of which group your business belongs to, the effective use digital marketing during and after these trying times can still lead your business towards success.
What is meant by Digital Marketing?
At a higher level, digital marketing refers to advertising done through digital channels like search engines, websites, social media, email and mobile apps. Whereas, this term covers a wide range of marketing activities. Digital marketing is a vast subject. Digital marketing methods such as search engine optimization (SEO), search engine marketing (SEM), content marketing, social media marketing (SMM), influencer marketing, content automation, campaign marketing, e – mail marketing, social media optimization (SMO), and so on. The big brands use digital marketing in a number of ways to benefit their marketing efforts. The kind of era we are living in is completely a digital one. So, its highly advantageous for a company to promote their products and services using digital means. Masses now – a-days are spending half or more than that of their time online. So, it's good to promote your products on online platform. Hence, it can reach a large number of audiences in a short period of time.
The Role of Digital Marketing for business during the time of Crisis
However, there is the only way to fight with the new virus at the present moment is to hunker down at home, that's what exactly people around the world are doing. So to entertain themselves, majority of the individual have been browsing the web, and since this is quite evident from the web usage statistics. Whereas, the novel corona virus is present in every country of the world, yet the traffic to some popular websites has been increased significantly, and so did mobile phone data usage as well. During the lock down period, in order to stay in touch with the loved ones and to connect with the outside world, even many elderly people have also turned to different social media platforms, as a result virtually all of us have experienced a significant increase in number of user activity. On the other side, digitally savvy businesses have been quite quick to notice the opportunity in order to deliver the most meaningful engagement digital users in a time of crisis crave. Even the businesses which earlier have no previous experience of using digital marketing for their marketing needs, but now in such a situation of crisis should reallocate their marketing budgets and finally should embrace the plethora of digital marketing tools and channels that are available. While it's the most suitable and correct time to get start with digital marketing it might seem complicated or expensive but the results you derived from it are instant, measureable, and amazing.
Some Advantages of Digital Marketing in the Present Scenario
In the present scenario, the digital marketing is getting more and more in demand. Due to the Novel Corona Virus pandemic, the current way of doing business has completely changed in order to survive in the market the business has to go online. Digital marketing is the only way of promoting your business in this scenario. There are numerous advantages digital marketing company in, offers to it's clients.
Cost Effective
:
Therefore, by planning a successful online marketing strategy that too within your budget that is by the using the digital marketing which offers an inexpensive techniques and technology when compared comparison to other advertising mediums. While majority of businesses are trying to cut cost it is one of the most efficient way of marketing.
Large Number of Audience
:
The digital marketing strategies and campaigns helps to reach a numerous prospects that too within a small investment. It allows to target where your audiences is and where they are looking for you. Hence, it will allow to witness long term results. After the pandemic it is important to advertise smartly.
Branding
:
Branding is a thing that every business wants to achieve and hence, digital marketing helps in developing the brand by promoting it on several platforms.
Social popularity
It allows to create engaging campaigns with the help of different types techniques. When these campaigns go viral on social media platforms, thus by passing on from one person to another, results to gain social popularity.