Latest Digital Marketing Trends 2022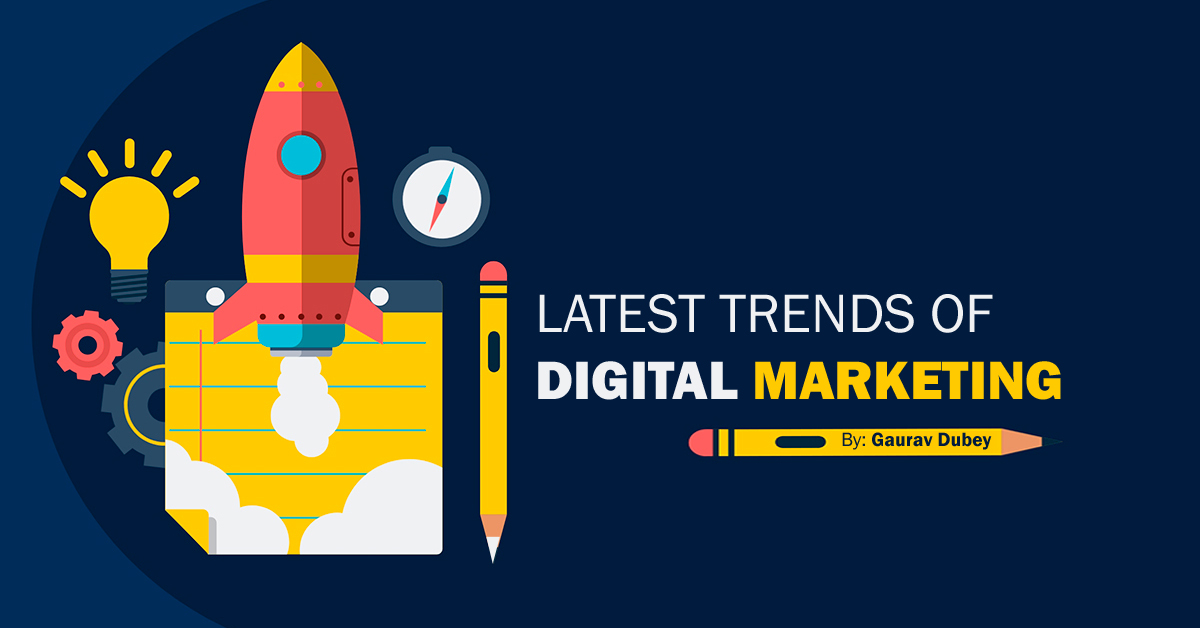 Digital marketing is a component of marketing that you like this internet and online-based digital Technologies such as desktop computers mobile phones and other social media and platforms to promote products and services it has various branches like Search Engine Optimisation, search engine marketing, etc. The development of digital marketing is inseparable from technology.
The ongoing covid-19 pandemic has upended how businesses operate more products and services. online many employees will continue to work remotely and hybrid setting off next year. Months of varied customer responses to covid-19 has given digital market insights into the marketing Trends that a digital marketer working in this new normal and expect in 2022.
Digital business pivots may become permanent
The Global pandemic had an impact on every business whether it is digital marketing. Virtual meetings have replaced traditional gatherings these days. According to experts, virtual events will diversify your social media activity to connect with more engaged users to that point that enriches the User experience on your social profiles by leveraging shops and other features that break down barriers to worth purchasing from you. Various Instagram portals were established to sell various items from clothing to home accessories.
Various Digital Marketing Trends 2022
Social media has become a top channel for purchasing instead of just discovery of things
It is easy for consumers to buy from various social media platforms like Facebook which gives a good description of the product and reviews also.
Informed Buyers Want to Buy from Informed Brands.
This means evolving even beyond the age of personalization and entering an age of personal commerce where consumers co-curate their experiences of the brand to reflect their preferences at any given moment they expect brands to understand what they have brought in the past and help them to determine what they should buy next based on all the data they have consciously shared.
Virtual Events started for necessity e what is staying because of ROI accessibilities
In the face of the pandemic, events became virtual out of necessity. As we move into 2022 and beyond many events will stay virtual not only because of continuous safety measures but also as a result of lessons learned in 2021. Companies found that by going virtual they have opened up their events to an entirely new audience as a virtual event and is more accessible to more audience and people at a time. 2021 has seen brands and marketers stumbling to survive the unpredictable events they have been unfolding. Digital marketing has become a boon for companies despite these at certain times while the digital age has already started changing lies across industries and various verticals the current year mainly for its growth exponentially. For Virtually wins visa issues travel restrictions and cost are not as much of a concern as with in-person events and many companies are found that this allows for higher attendance and more participation. This means lower costs for people and a higher ROI.
Social media channels helping digital marketing companies flourishing
Many companies are starting to reduce the number of social media channels they are using to share and influence and rightly so with many channels available and many companies have tried to stay relevant on all of them, the lead to decluttering is almost pervasive. Reducing social media channels to only most elements will not only be popular but necessary.
Live interaction with virtual events for meetings and other business agendas
Virtual events have great power of communication than the traditional method. There is a mistake Among many associations and companies that Virtually wins should be broadcast vs being live.
Featured snippets and no-click searches
For many years, the goal of SEO has been to get your listing the position number 1 spot in search results. Now going into 2022 the end goal is continuing to shift to more visibility in position zero Position zero refers to Google featured snippets and 2022 SEO marketing Trends are prioritizing it above all else. The features that work differently than other search results entries, for one thing, it's separated by a small box and located at the top.
Artificial intelligence Trend
Artificial intelligence is being implemented in all different ways across various business processes and marketing. Improving communication analyzing the available data tracking operations and predicting customer behaviour patterns can be tracked through artificial intelligence that helps in reducing manual work. Artificial Intelligence can be easily used for improving customer satisfaction as it can help in easily reading what the customer expects Using video advertising these days at the lovers are not updating their features to a level to create customer loyalty and reducing the shift between various applications. Instagram reels and LinkedIn stories are some examples of AI trends. AI companies promote such features on their own to get user IDs on it making it the right option for marketers to showcase the product and service.
Programmatic Advertising
Programmatic advertising means using artificial intelligence to automate ad buying so you can target more specific audiences real-time bidding for example is a type of programmatic ad buying. This automation is much more efficient and fast which means higher convergence and lower customer acquisition cost.
Voice Search
With Rapid technological advancements like Google Home and Alexa disrupting the innovation space, they have created a boom for voice search. The voice search queries need to be optimized while choosing the content and keywords and sure to choose the keywords based on what users would ask Google Alexa and Siri.
Influencers marketing will solidify its position as a key channel for consumer brands
Consumer brands have historically used various social media influencers to present authentic and biased content to appeal to the prospects and customers the pandemic amplifier and the impact influences have on the purchase of products due to a limited ability to shop at stores. Social media use dramatically increased during a pandemic and Research forms believe this trend will be lasting. A recent study found that 40% of the people reported that their purchasing a product online after seeing it used by an influencer on YouTube, Instagram, and Twitter. As a result, there is an opportunity for brands to utilize social media influencers more now than ever. TikTok experience explosive growth surpassing Snapchat in uses which generation Z and brands have taken notice of.
We have identified Areas where savvy managers should invest their time and resources next year:
• Social Media to Engage and Retain
Organizations should be prepared to dedicate more resources to social media marketing in 2022. Social media budgets accounted for 24 % of total marketing budget during the covid-19 pandemic marketing. Increasingly making customer retention is a Priority this will continue well in 2022. The pandemic has dramatically increased the number of people spends online which includes how they research products brands organizations. This consumer shift creates a new opportunity for marketers to increase their reach with new audiences. and re-engage with long term customers. for only a few hundred dollars, a month a good social media marketer can develop a content plan make a regular post and drive customer responses and attract new businesses.
• All in One Google Listings and Local SEO
If you own a small business the most important thing to ensure that your local listing is verified and keep current on various platforms. This is because for b2c business is that your customer's family on a local level the Google business listing provides valuable information about your services and geographical locations.
• Improve Communication of Availability
According to McKinsey, the availability of products and services is the number, one reason that customers are stretching their brand allegiance right now. Marketing can meet this challenge in a few days with a solution is to increase the days of inventory on hand of products or the availability of time slots for services.
• Automated Bidding in Google ads
Freaking out over a Google market is constantly quick and adjusting campaigns, keywords, and weights to get the most for advertising dollars. The problem is all the arise that come at the cost of higher fee management and automated bidding which allows Google to automate prior moves to adjust your bidding in real-time.
• Power of Voice Search
Voice search is currently not a part of the Google algorithm however it is still depleting search results. Voice search queries attaining different results than if you had time in a text-based search for a so it's a good idea for a business to be on that shows with voice search component for their consumers who are adapting and switching over the medium. According to digital marketing analysts, that 2022 will be full of optimism with a focus on performance across channels and powered by improving tracking most of the behaviour consumers and brands will adopt are based on core values authenticity and efficiency of digital channels.