Scope of SEO Freelancer in 2023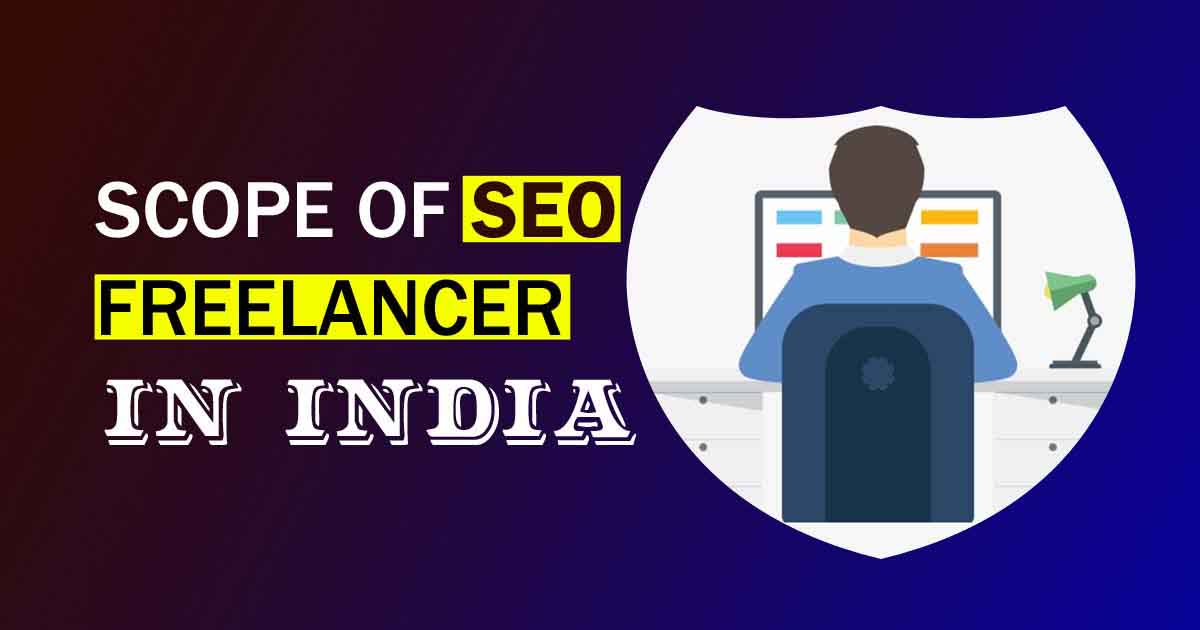 What You Get to Know in This Blog?
Scope of SEO Freelancers
As an SEO freelancer, you are the future of 2023 workforce and a part of the business recovery from pandemic. Its revolutionary year. Start from small and keep big ambition and keep moving alone being Best SEO freelancer in India. The COVID outbreak has initialized the trust of the internet industry. The game of search engine Is well-coordinated with the Internet. To enhance the sale of any of the products it is required to promote that product on a large scale and today Google is the best option to promote any of the products or services. SEO Freelancers provides the best ranking of your product/services so that the number of users and audience increases gradually and successfully. Every businessman requires their website at the highest Google ranking. To achieve that you need a perfect SEO expert or any digital marketing agency with excellent content writers.
Let's Understand about Search Engine Optimization
Search Engine Optimization is the best strategy to rank your website in top position of search engines like Google, Yahoo, Bing Etc. SEO increases the visibility of your website in search engine to get highest organic traffic and leads/sales for your business.
What are techniques of doing SEO?
There is various technique to optimize your website in search engine. On Page SEO
Technical SEO
Off Page SEO
These all techniques are important while optimizing your website in search engine. On Page SEO is focused to optimize your website's own pages using many On Page SEO techniques like keywords research, content optimization, headings, title, meta tags, alt tags, internal linking, outbound links, canonical tag, keywords placement in heading and sub headings and much more. Technical SEO relates with technical things of website, and an SEO executive must work on it before starting SEO for any website. It incudes URL structure, website structure, website responsiveness, website loading time, CSS optimization, JS Optimization, Image Size optimization, website navigation, sitemap, robots file etc. Off Page SEO is to work on making backlinks of your website, must differentiate between making backlinks and making quality backlinks. Creating numbers of backlinks without any consideration about the Domain Authority and Page Authority of the website where we are submitting our websites tending to get backlinks. Backlinks are also of two type while doing organic Off Page SEO. Do-Follow Backlinks and No-Follow Backlinks. We create both types of backlinks with ratio of 70% and 30%.
What to learn to make career in SEO?
Learning SEO starts from some analysis of digital marketing institutes near by you or digital marketing institutes providing online course. Yes! You will have to join any institute or connect with any good SEO mentor or request any SEO expert to give you time toward earning basic to advance of search engine optimization. SEO experts couldn't get time to teach you as institutes will but they can guide you the exact strategies which will work for you. Selection of digital marketing institute depend on various things like their past students reviews, demo session provided before admission, environment of the institute and expertise of the faculty teaching you SEO. You can read all reviews of the institutes to choose any best digital marketing institutes. To become successful SEO freelancer, you need to learn SEO believe that it will be your great decision to become SEO Freelancer because there are huge career opportunities in SEO (Search Engine Optimization). You must be observing yourself that how frequently you are using Google to know something or buy anything onlne. Not only you, most of the people are using search engines to get any information or any requirements. Those websites get more and more traffic on search engines which are at the top and their traffic increases day by day. It can be a great opportunity for you to learn how to rank your website in top ranking of Google. Start learning SEO today!
Things to learn deeply in SEO
So, if you're thinking to learn SEO & want to join an SEO Institute than you must consider the following things.
Web Design and Web Hosting Basics
SEO (Search Engine Optimization) Overview
Keyword Research
Business, Competitor & Website Analysis
Content Optimization
On Page Optimization
Technical SEO Optimization
Off Page Optimization
SEO Tools Free and Paid
Google's Major Algorithms Updates and Penalties
White Hat, Black Hat and Grey Hat SEO Techniques
Duration & Fee of Learning SEO
Learning SEO may take unlimited time if you are starting as new bee. But you need to learn only basics of SEO to start and work on any project. You can join and digital marketing institute to learn SEO. SEO is continuously changing day by day so you will have to be updated with latest SEO trends while working on any project. Generally, digital marketing institutes charge 15K to 70K to learn search engine optimization. You have best option to learn online free of cost from many websites and YouTubers too. It depends on you how quickly you adopt the strategies.
Which is better? joining SEO job or being SEO freelancer
What do you want to be? Your career depends on your thoughts and mentality. If you want to take some risk at initial stages then must choose to become SEO freelancer. If you want to be in safe zone then be prepared for SEO job. Hence job is also not permanent in SEO. Your performance only decides the continuity of your job in SEO. Choosing freelancing is little challenging because you do not know how will be your luck and how many projects you can get with your hard work. Once you start delivering effective result to your clients, you become first choice of your customers as SEO consultant. Major advantage of becoming freelancer is you can make a team if you get more and more projects and in this way you are few steps away to start a digital marketing company. Take risk and explore the digital marketing world and serve the needy.
What are steps to become successful SEO freelancer?
Successful SEO Freelancers are those who are not running after projects, In fact projects are searching them. Such freelancers can be seen on every social media platform, if someone posted any requirements for SEO freelancing, people from SEO background starts commenting blindly there and bidding also starts there. I can do in 10K, someone in 8K some one in 6K in this way they destroy the reputation of excellent freelancers. Here are some steps to be named in successful SEO freelancer. a) Be updated with latest SEO techniques b) Make your own website for your identification c) Start working on your website SEO d) Get higher ranking of your website related to SEO Freelancer keywords e) Work for some clients and give your 100% for their growth f) Make good number of portfolios of SEO work g) Get your happy clients testimonials h) Communicate well with upcoming enquiries i) Meet them personally or through video meeting j) Convince and close the project k) Work hard and grow together l) These are only steps to become successful SEO freelancer
How to evaluate cost for SEO Projects?
Research market price for doing SEO. It depends upon Keyword Competition and Search Volume. Easy (low competition) keywords are easy to rank in search engine. While high competition keywords take lots of time to rank in. Generally, SEO Package starts with $10-$15 per keywords per month. If any client start with basic plan of 15 keywords then general charge is $160. Duration of ranking is extended if keyword competition is high. It takes 4-6 months to rank keyword with medium competition. It may vary with many terms and conditions. Every business and their keywords are different and an SEO freelancer cannot evaluate all with same price. So, it will be dynamically after analyzing website and requirements.
Demand of SEO Freelancer in India and abroad
You cannot imagine how many websites are created in India daily, They all create website for on soul purpose. To sale products or provide services. Whatever industry they belong they will need a digital marketing consultant and then SEO person will also require for doing digital marketing. SEO executive is as much needed for business as oxygen is needed for any person. Without SEO your existence is not possible in search engine and transaction takes place after search only.
Scope of SEO Freelancer
2023 will be world full of tension after or in the state when the world will be trying to recover from pandemic. Every business will try to get good growth and SEO freelancers will help those business to survive and grow simultaneously. Being a SEO Freelancer, you have not sat without any work in pandemic condition also. Every freelancer is working from home, but yes projects has been stopped by clients. Upcoming 2022 is coming as golden period for SEO freelancers they may get lots of projects and work independently becoming Indepreneur.
Also read: Scope of Digital Marketing Consultant in India