Digital Marketing Seminar
Digital Marketing Seminar, SEO SMO PPC Workshop
Digital Marketing Free Seminar, Attend for Career and Business Growth
---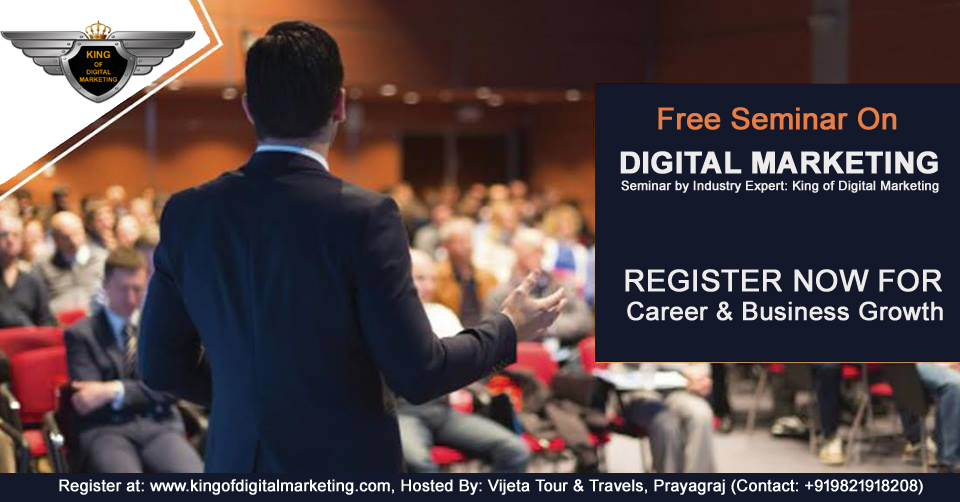 Upcoming Seminar
Delhi, Govindpuri, Kalkaji - 17 Jan 2020
Delhi - 25 Jan 2020
Allahabad - 28 July 2019
Digital Marketing Seminar to be organized in Prayagraj by Vijeta Tour & Travels.
Patna - 10 August 2019
Delhi - 13 August 2019
Register For Seminar
What do you learn in Digital Marketing Seminar?
We give knowledge of everything you always wanted to know about Digital Marketing - But hesitated to ask. We at king of Digital Marketing invite you to attend any or all of these informative sessions. Carry your laptop, tablet, or smartphone - and get ready to put your new knowledge to work immediately. Get latest venue and schedule for upcoming digital marketing seminars. Book your seat by Registering form available in left side or Send your details for Seminar on Whatsapp Message Mob: +919821918208
Free Digital Marketing Seminar
There is no charge to attend our Online Marketing and Digital Marketing Seminar in Delhi or any cities of India. We conduct SEO SMO PPC Seminar or workshop in Delhi Every Saturday and Sunday at our Office locaion. If you are interested to learn Digital Marketing about SEO SMO PPC. Join our session, Seminar and workshops of SEO SMO PPC in Delhi. All sessions willconvene at 12:30 at King of Digital Marketing, New Delhi. Please register for another city according to upcoming venue.
Contents Covered in Session:
(a) How to Promote Business Through Digital Marketing
(b) How is Google Adwords Advertising Differ from Organic SEO
(c) Small Business Promotion Strategies
(d) Importance of Internet Marketing for Entrepreneurs & Small Business
(e) Top 4 Sources of Online Lead Generation
(f) Freelance Program for Professionals in Internet Marketing, IT & Content Writing
(g) Affiliate Marketing, How to promote your Business through Affiliate Marketing.
(h) Lead Generation Strategy
(i) Latest Business Promotion Strategies through Internet Media
(j) Free Google Certification Exam Experience
Time:
All sessions will convene at 12:30 PM at King of Digital Marketing on Sat. & Sun.
Extension -
Please Book your seat by sending details at +919821918208